Porch Doors
Porch Doors that will afford you greater security and insulation. Homes that have a poor insulation become a menace for the inhabitants. Neither do they prevent outside air from getting inside nor do they retain the inside air within the house. Air from the outside enters the house and results in poor heating or cooling by the air conditioner or relevant heating system. This raises your power consumption and burns a deep hole in your pockets.
---
Porch Doors in uPVC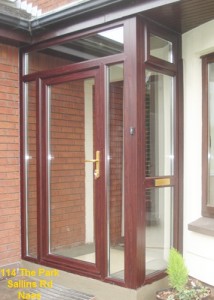 Adding a porch to the design of the house will not only provide a fillip to the aesthetics of the facade of the building but also augment its security and insulation. A material that has remained favorite for long in building porches is PVC. However PVC has to be added with certain chemicals known as phthalates to make it flexible.
These chemicals have been found to be carcinogenic and are known to cause harm to human bodies when ingested. It is for this reason that a modified form of PVC known as UPVC or Unplasticized Poly Vinyl Chloride is used.
Sliding porch doors and other structures in the porch are now made with uPVC.Porches made of UPVC have gained huge acceptance in the markets as building material for porches. UPVC porches are primarily created with intent to provide insulation from the external elements.
Besides this, UPVC porch doors do not crack or chip and their pigment does not fade away on coming in contact with sunlight. uPVC Porches act as a space where soiled and wet shoes and coats can be placed because mud and dirt does not stick to UPVC and it can be easily washed away with water.
---
Porch Doors Enhance Security
The fact that UPVC porch doors are made out of a strong and rigid material which is resistant to flames, acid and alkalis makes them an ideal choice for home security. UPVC is also resistant to chemical corrosion, rust and water oxidation. UPVC stands tall against any efforts of cutting or melting it by solder flames. This makes UPVC porches ideal for security against intruders and other unwanted elements.
Beside porches, UPVC is being widely used to make other house building materials such as downspouts, gutters and house sidings. Builders are subscribing to UPVC for making double glazed windows and insulation for electric wiring. UPVC proves very effective as an insulator for electric wiring because of its non-conducting properties. With its appealing look and resistance to corroding atmospheric elements, UPVC has become a favorite porch building material.