Windows and Doors
Windows and Doors are always needed for older homes and new homes. They are important elements of the construction and design of homes. Some homeowners spend fortunes, engaging architects and designers to create the perfect window. The reason for this obsession is that they can provide spectacular views of the countryside and mountains. Sometimes creating a perfect picture scene using the natural landscape.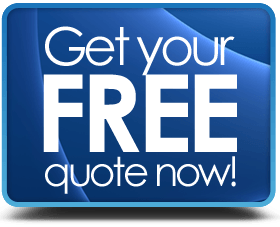 Replacement Windows and Doors
If you have bought an older home you will have to upgrade the windows and doors. This is referred to as a replacement. Weatherglaze Designs are experts in this field and have been doing this for decades. They use the latest products specially produced for this area of home improvements. If you have to replace the windows then it's more than likely that the doors will have to be replaced also.
Attractive windows and doors can make a plain house stand out from the crowd. So when it is time for replacement windows uPVC products are a viable alternative for your home improvements. Double glazed windows are simply two panes of glass in one frame. What makes uPVC windows so great is that they are excellent insulators, as opposed to traditional windows. These glazed panels are formed by placing two panes of several glass millimetres apart. This creates a pocket between the panes that traps dry air and forms a highly efficient insulating layer in windows and doors.
Replacing your standard windows and doors with double glazing can cut your heat loss in half and trim your monthly utility bills. As well as being efficient energy-wise, these attractive replacement windows and doors also help to discourage crime. Doors and windows are a common entry point for burglars. Double glazing adds security with a multi-point locking system.
Benefits of Installing Windows and Doors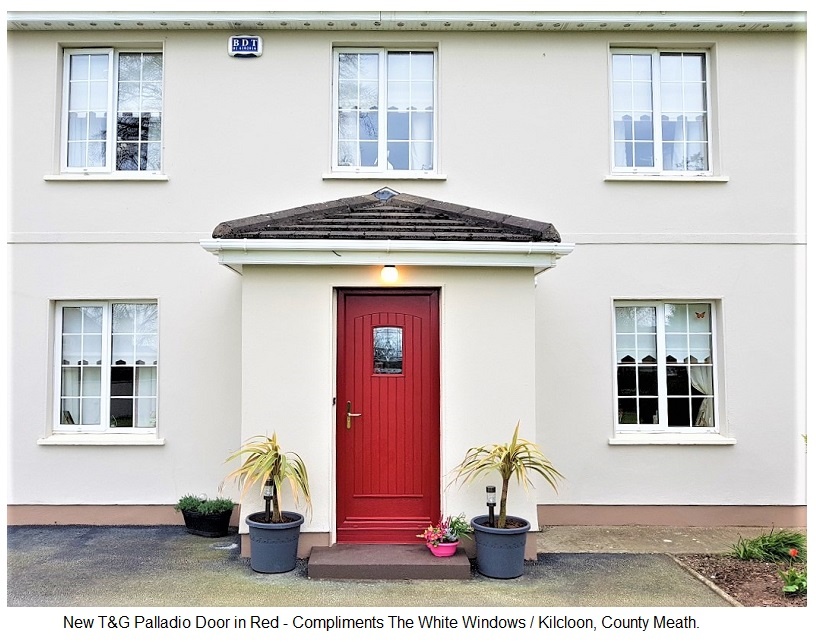 An increasing number of households are choosing to install UPVC windows and doors when making improvements to their home. There are many benefits to choosing UPVC over wood, and it is these plus points that are seeing the popularity of UPVC soar. UPVC windows and doors are made from sturdy materials, wrapped around a core of galvanized steel. This makes them much more durable than wood or metal. UPVC can also withstand weather problems, especially damp, much better than its wooden or metal counterparts. It is not susceptible to rusting, rotting, swelling, warping or infestation from pests such as termites.
When it comes to easy maintenance, UPVC scores top marks compared to other materials. With UPVC windows and doors, they only generally need basic cleaning. Occasional oiling of any hard locks or components is recommended. Wood, on the other hand, will need treating to keep it looking good and to prevent any rotting or warping from weather damage.
uPVC Windows
Most of us are conscious of our impact on the environment, so choosing UPVC can play a role in aiding us lead a more friendly existence. Since UPVC acts as an efficient insulator – keeping the cold out and the heat in – windows and doors made from UPVC can reduce our reliance on consuming energy for heating or air conditioning, which can have a positive impact on our bills. The insulating effect of UPVC windows and doors also means that they provide excellent protection against any unwanted noise entering a home, such as traffic from outside, shouting or music. Replacement windows are a must for many homeowners. The compliment all composite doors also.
One of the biggest advantages of choosing UPVC windows and doors is the great variety of styles and designs there are available to choose from. You can even find products that veer away from traditional black or white colours, with some even having a wood-like colour or effect.
Weatherglaze and Windows Kildare are one of the most respected designers and installers of windows in Ireland. They have installations all across the country including County Kildare, Dublin, and County Laois. Coupled with Composite Door Systems these two companies can take care of all your window and door needs.
Since October of 2010 legislation was passed requiring WER (Window Energy Rating) of band C or higher. Weatherglaze installs windows and doors that are A-rated. Further, the double-glazed uPVC windows are up to 28mm thick and the triple glazed windows are up to 44mm thick.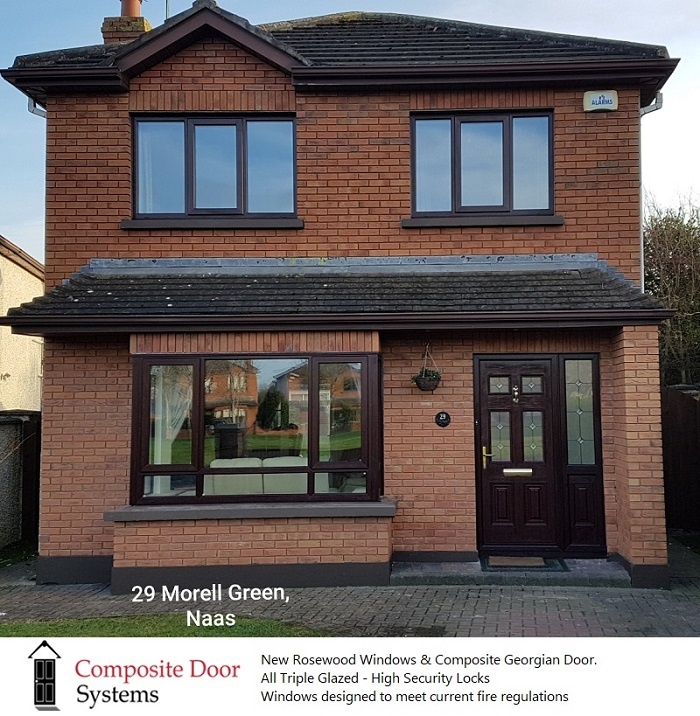 What is a uPVC window?
The term uPVC means Unplastisticised Poly Vinyl Chloride. It is the world's third most commonly used synthetic plastic polymer with about 40 million tons produced annually according to data found HERE. uPVC windows and doors from Wetherglaze come in all shapes, sizes, and colors including sash windows and French windows and doors. For images of some past projects with both installed windows and doors those pictures can be seen in the Weatherglaze window gallery.
Why do I want double glazed glass vs triple glazed glass?
Glazing is a reference to the panes of glass in a window. A single pane window has one, a single sheet of glass between the inside of a building and the outside. The term "double glazed" means there are two panes of glass in that window, and "triple-glazed" means there are three panes of glass.
Those panes of glass create a sandwich in the frame in which they are hung. In between those panes of glass are inert, neutral gasses like argon, krypton, or xenon gas. This layering of gasses and glass panes creates a barrier to various things and for various reasons, chief among them is energy efficiency and soundproofing. Double and triple glazing can be used in both windows and doors.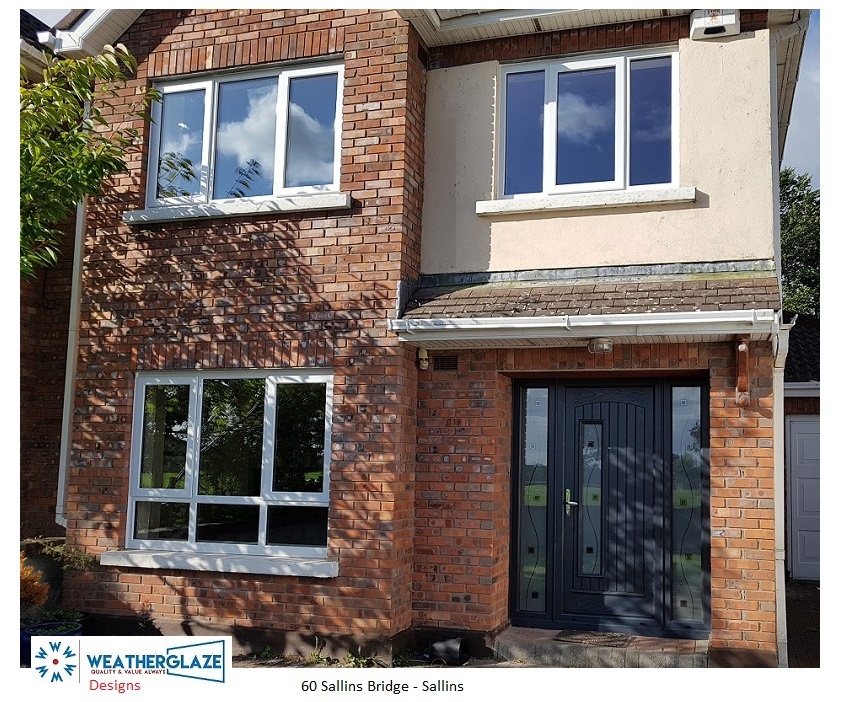 Are uPVC windows secure?
Windows and doors are only as secure as their construction and the hardware used in their operation and installation. uPVC windows and doors have been constructed in such a way to be as secure as any window on the market, and more secure than most for the window's entire life. Unlike traditional timber constructed windows that can rot and weaken, uPVC windows remain as sturdy as the day they were installed throughout their entire life.
Thieves are lazy, simple creatures. A poorly maintained window, a window with peeling paint, or a window that looks like it is rotting in its sill look like easy entry points into a building. Replacing those eyesores in the building's exterior goes a long way to avoiding simply labelling that building as an easy target.
Why should I use uPVC in my window replacement project?
Weatherglaze double glazed and triple glazed windows are not just stylish and colourful, they offer many advantages too. uPVC windows are the most economical solution for both new construction and renovation projects that meet the mandated guidelines. While triple glazing is obviously more expensive as it contains more materials, it is the clear choice when the highest level of soundproofing and efficiency is needed. Where budget is the key driver, double-glazed solutions simply cannot be beaten. Finally, we can provide all these window options in custom solutions as well for those exceptionally hard to fit areas of any project. However, for custom solutions there are additional questions needed so please fill out a quote form and someone will respond within 24 hours to your request.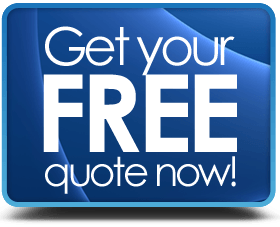 Whether the project is new construction, standard renovation, or that one of a kind custom job. Weatherglaze has the window to fit the need. Using A-rated materials these windows and window designs meet or exceed all current standards. With our partners at Composite Door Systems, we can complete any project from the front of the building to the back with secure, efficient, and budget-friendly materials. Contact us today and let's start talking through your project solutions.
Windows and Doors custom made for homeowners. A white uPVC window is a type of window that has traditionally been used for purposes such as windows and doors. White uPVC windows are typically made from polyvinyl chloride (PVC) and designed to create a durable, weather-resistant surface. The material is commonly used in the construction of residential homes. Manufacturers design their windows with UV protection properties to battle weathering caused by sun exposure.
Features and Benefits of Windows and Doors
A white uPVC window can have many of the same features as traditional wood, aluminium, and/or vinyl window. For example, a white uPVC window can suffice in providing ventilation while remaining affordable to manufacture, install and maintain. White uPVC windows from leading manufacturers are available in various styles such as casement, sliding, and hopper windows. Models typically include double-hung (sashes) as well.
What are the benefits of a white uPVC window?
The benefits of a white uPVC window are numerous. Below are some of the most common benefits.
1.
They are durable
A white uPVC window can provide a durable, weather-resistant surface that retains the beauty of wood. The material can withstand the elements for a long time, particularly when compared to wood.
2.
They are affordable
A white uPVC window is available at a reasonable price when compared to many other types of windows on the market today. The high-quality material makes it possible to produce a white uPVC window at an affordable cost while still providing the qualities you expect from a durable product.
3.
They are easy to maintain
White uPVC windows do not require the same level of maintenance that wood systems do. They are very low in maintenance requirements when compared to other materials such as wood. This makes them an ideal choice for homeowners who prefer to avoid investing a considerable amount of time on their windows.
4.
They provide good thermal efficiency
A white uPVC window is a great choice for homes with low energy bills because they provide good thermal efficiency while maintaining an attractive appearance at the same time. While white uPVC windows are very affordable, they can still provide thermal efficiency benefits. This is typically the case when compared to other window types that do not provide thermal efficiency.
5.
They do not warp in high temperatures
White uPVC windows are a good choice for homeowners who live in areas with high humidity and/or temperature fluctuations because they hold up well under these conditions. A white uPVC window can withstand the fluctuation in temperatures because it is made from high-quality material.
6.
They are environmentally friendly
A white uPVC window is an environmentally friendly choice when compared to other types of windows, such as wood or vinyl. White uPVC windows are recyclable and typically do not require the same amount of energy to produce, install and maintain. They also have soundproofing qualities that make them a great choice for homeowners who do not wish to have the sounds of their neighbours heard through their windows.
Conclusion
A white uPVC window is a durable and affordable product that is great for use in exterior applications. It can provide several benefits to a homeowner depending on the situation. A white uPVC window is durable, long-lasting, and cost-effective among other things. It may be a good option for your home depending on your specific needs.