Installing Replacement Windows
Installing replacement windows is not rocket science. For anyone who has a basic knowledge of home improvements it is actually quite simple if you follow some fundamental rules and guidelines. There are a few tools you will need to carry out the procedure. We will relate to these as we go down through this article. Your measurements and calculations do require accuracy for the new window to fit correctly. Measure twice and cut once, this is an old saying but still rings through today. If in doubt measure again, do not presume.
What You Need When Installing Replacement Windows
Here are some of the mail items you will need when measuring and installing windows;
A measuring tape minimum length of three meters.
Builders pencil.
Good Drill
Drill Bits ( 3mm, 5mm, 6mm, 8mm ) Masonry and Steel.
Hand-saw
Spirit Level
Hammer
Sweeping Brush and Bin ( very important )
Gloves
Nail Bar.
Before removing the old windows, make sure that they are not supporting anything above them. Ensure that the new window is made to suit, in terms of size and design. In Ireland it is custom to fit the new windows behind the reveal, so check that the new window is made to do so. Cover the immediate area with dust sheets internally and externally lay down plastic sheeting to catch and falling debris.
Try and make the removal as simple as possible. Screw off existing sashes, and deglazed the old window. Using a sabre saw cut all mullions and frames in as many places as possible. Using a good nail bar prize the old frame away from the brickwork, don't pull or hammer the frames as this may crack the reveals. Use a stanley or scraper to separate internal plaster from frame. The less damage you do removing the old window, the less making good you will have to do after installing the new window.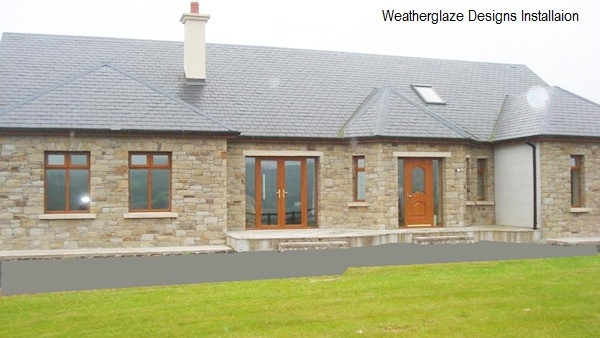 Fitting The New Window
First of all this is not a job you should do on your own, it's always easier and safer to have an assistant. After removing the old window and preparing the aperture for the new window it's time to install. Our advice is to deglaze the window first as this will make it lighter and easier to handle. Set the new frame in the prepared opening and make sure it is level and plumb, you will use your spirit level to do this. The frame can be fixed in position by using fixing lugs or straps. Frames can be also fixed in position by direct fixing with screws.
When you have the window fixed in position, it is always good practice to put expanding foam between the frame and the brickwork, this will ensure that you won't get and inflow of air and will also improve the sound insulation. Next, you will glaze the window and make sure you have the correct glazing spacers for use under the double glazed units. The use of these spacers will prevent the glass from sitting directly on the frame and will allow any moisture that may seep in to get to the drainage holes in the frames. After all of this then fit your internal window cill. Window sills are available in hardwood and plastic and can be sourced from an good builders provider like Leinster Woodcraft.
Finishing The Job
Internal Plastering
Do not attempt to plaster, if you are not trained to do so. It's awful to look at plaster that has not being applied properly. If you can't do it, then hire an expert, you won't regret it.
Sealing the Window
After installing replacement windows you will want to seal them on the outside. This is done by applying a silicone seal using a silicone gun. Silicone comes in a range of colours and you will find there is one to suit, White uPVC Windows, Rosewood Windows and Cream Windows.
Cleaning And Finishing
This is one of the most important elements of installing replacement windows. If you clean as you go, you will find that you have very little to put away at the end. It is mind boggling to observe so many window installers just throwing items on the ground where they are working, walking over old frames and rubble and creating a hazardous working environment. Absolutely no need for this, good workers clean as they go just like a doctor or surgeon would.
Conclusion
Installing replacement windows is very easy if you approach the task correctly.