Window Cleaning
Window cleaning can be difficult and testing at times. Like all things if you approach it with the right amount of knowledge it can be easy and simple. There are hundreds of articles written on how to clean windows. There are some innovative ideas and also some traditional methods which have stood the test of time. It's important when it comes to replacement windows to consider this.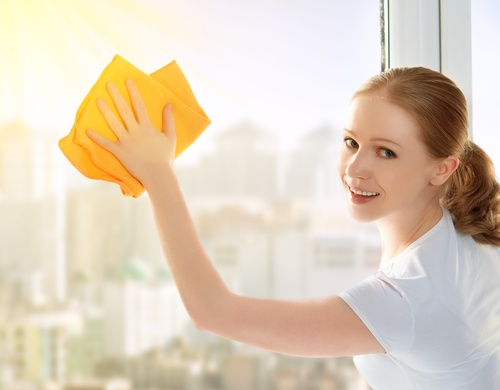 Window Cleaning Using Vinegar
It has been related down through the decades that vinegar in water is very good. Whether it's windows or French Doors they all have to be cleaned at some stage, so it's important that we know how to do it. My mother and grandmother used vinegar to clean the windows. The mixture used was one gallon of hot water and about a cup of vinegar. The water they used was tepid not too hot. Fill the water first and then pour in the vinegar. Mix thoroughly and apply with a cotton cloth for best results.
Maintaining the quality of your UPVC windows is not a difficult chore to do. As long as you have the proper know-how on what you need to do, you will be able to sail on through the task quite easily. You just have to be mindful of the fact that even if they are touted to be maintenance-free, these windows do need to be cleaned periodically. The term maintenance-free just means that you do not need to paint them regularly for their quality to be preserved.
UPVC windows need periodic cleaning because they are also like any other surface. They pick up dust and dirt over time, especially during warm seasons. If you are fond of opening your windows when the weather is warm, then the tendency is they'd get dirty much easily from the constant handling. The dust and dirt that gets carried in the air will also add to the grime. Although you don't have to clean your windows every day for them to look presentable, you do have to do it at least once a week if you are very meticulous or twice a month, depending on the accumulated dirt and dust on them.
Window Cleaning The Easy Way
There are simple ways to clean and maintain the UPVC frames and glass panes of your windows and these are just some that you can easily do on your own:
In cleaning your glass panes: Simply use a cloth along with a window spray cleaner to wipe the panes clean. You can also use soap mixed with water. If you want to give your windows that spiffy, sparkling look, then you can wipe down the panes with an old sock dipped in vinegar mixed with water.
In cleaning UPVC window frames: Just like your window panes, the frames of your windows can be cleaned using the mild detergent or liquid soap mixed with warm water. For that sparkling shine, you can also use the vinegar and water mixture.
Window Cleaning Made Simple
If you don't have much time and are just aiming for a quick clean. Then you can also use your vacuum to give your window frames, panes, seals, openings a speedy do-over. This will do nicely and will not demand much of your time. Don't think that cleaning your UPVC windows is enough to maintain its quality. You will also need to maintain its functionality and this means making sure that all its mechanisms are working accordingly.
To prevent rust from setting in and to ensure that you won't get a squeaky sound from your hinges or locks, you need to lubricate your windows' mechanisms once in a while. It is recommended that you use a WD-40 spray for such parts as the lock assemblies, the handles, hinges, striking plates, and letter plate springs. A clean and well-oiled UPVC window will surely last long. With these tips of cleaning UPVC window you will surely maintain them and ensure that they last for a long time.
Contact us now for replacement windows and doors.